MongoDb
MongoDB is a document database, which means it stores data in JSON-like documents.
JavaScript
Python
Network Connection needs
This integration needs network access to the server where the service is running.
See the Network access page for details about how to achieve that.
Credential configuration​
To configure this credential you need the url, username and password to connect to mongo.
Optionally you can set any of the extra config params you can see here.
Here you have an example of a filled credential configuration form in YepCode: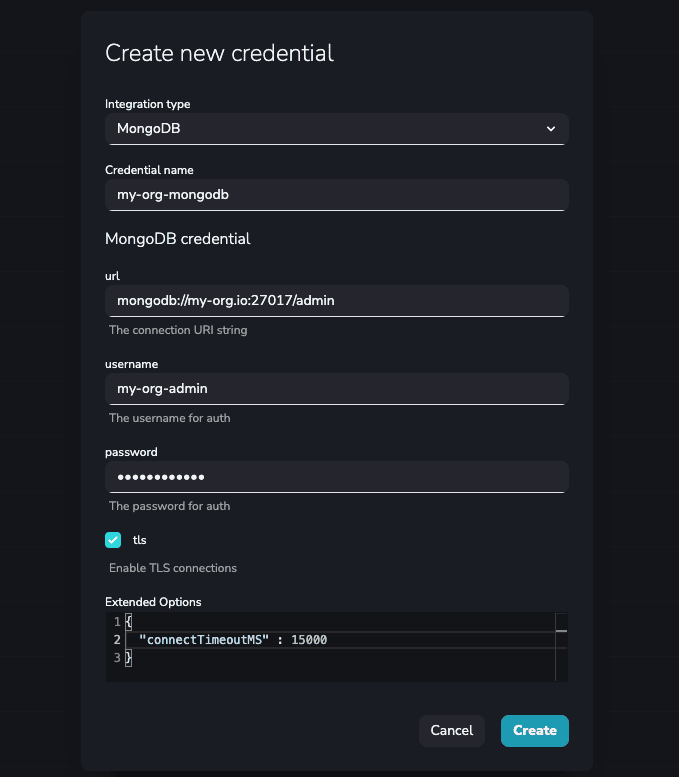 Mongodb snippets available in editor​
note
The title is the triggering text for YepCode to autocomplete the script
JavaScript
Python
Integration​
New integration from credential
const

 mongodbClient 

=

 yepcode

.

integration

.

mongodb

(

'credential-slug'

)



New integration from plain authentication data
const

 

{

 

MongoClient

 

}

 

=

 

require

(

'mongodb'

)





const

 url 

=

 

"mongodb+srv://<user>:<password>@<cluster-url>?retryWrites=true&writeConcern=majority"

;





const

 mongodbClient 

=

 

new

 

MongoClient

(

url

,

 

{




  

tls

:

 

true

,




  

auth

:

 

{




      

username

:

 

'username'

,




      

password

:

 

'password'




  

}




}

)

;



Connect to MongoDB​
Connect (async/await)
try

 

{




    

await

 mongodbClient

.

connect

(

)





    

// Your code here




}

 

catch

 

(

error

)

  

{




    

console

.

error

(

'Error connecting to MongoDB'

)




    

console

.

error

(

error

)




}

 

finally

 

{




    

await

 mongodbClient

.

close

(

)

;




}



Connect (Promise)
mongodbClient

.

connect

(

)

.

then

(

(

)

 

=>

 

{




    

// Your code here




}

)

.

catch

(

(

error

)

 

=>

 

{




    

console

.

error

(

'Error connecting to MongoDB'

)




    

console

.

error

(

error

)




    

throw

 error




}

)

.

finally

(

(

)

 

=>

 

{




    mongodbClient

.

close

(

)

;




}

)



Connect (callback)
mongodbClient

.

connect

(

(

error

,

 client

)

 

=>

 

{




    

if

 

(

error

)

 

{




        

console

.

error

(

error

)




    

}

 

else

 

{




        

// Your code here




    

}




    mongodbClient

.

close

(

)




}

)



Close client
await

 mongodbClient

.

close

(

)



Insert a document​
Insert a document (async/await)
const

 databaseDB 

=

 mongodbClient

.

db

(

'database'

)

;




const

 userCollection 

=

 databaseDB

.

collection

(

'user'

)

;





try

 

{




    

const

 results 

=

 

await

 userCollection

.

insertOne

(

{




        

id

:

 

'1235'

,




        

name

:

 

'John'

,




        

email

:

 

'john@foo.bar'

,




    

}

,

 

{




        

forceServerObjectId

:

 

true




    

}

)




    

console

.

log

(

results

.

insertedCount

)

;




    

console

.

log

(

results

.

insertedId

)

;




    

console

.

log

(

results

.

ops

[

0

]

)

;




}

 

catch

 

(

error

)

 

{




    

console

.

error

(

error

)




    

throw

 error




}

;



Insert a document (Promise)
const

 databaseDB 

=

 mongodbClient

.

db

(

'database'

)

;




const

 userCollection 

=

 databaseDB

.

collection

(

'user'

)

;





userCollection

.

insertOne

(

{




    

id

:

 

'1235'

,




    

name

:

 

'John'

,




    

email

:

 

'john@foo.bar'

,




}

,

 

{




    

forceServerObjectId

:

 

true




}

)

.

then

(

(

result

)

 

=>

 

{




    

console

.

log

(

result

.

insertedCount

)

;




    

console

.

log

(

result

.

insertedId

)

;




    

console

.

log

(

result

.

ops

[

0

]

)

;




}

)

.

catch

(

(

error

)

 

=>

 

{




    

console

.

error

(

error

)




    

throw

 error




}

)



Insert a document (callback)
const

 databaseDB 

=

 mongodbClient

.

db

(

'database'

)

;




const

 userCollection 

=

 databaseDB

.

collection

(

'user'

)

;





userCollection

.

insertOne

(

{




    

id

:

 

'1235'

,




    

name

:

 

'John'

,




    

email

:

 

'john@foo.bar'

,




}

,

 

{




    

forceServerObjectId

:

 

true




}

,

 

(

error

,

 result

)

 

=>

 

{




    

if

 

(

error

)

  

{




        

console

.

error

(

error

)




        

throw

 error




    

}

 

else

 

{




        

console

.

log

(

result

.

insertedCount

)

;




        

console

.

log

(

result

.

insertedId

)

;




        

console

.

log

(

result

.

ops

[

0

]

)

;




    

}




}

)



Insert multiple documents​
Insert multiple documents (async/await)
const

 databaseDB 

=

 mongodbClient

.

db

(

'database'

)

;




const

 userCollection 

=

 databaseDB

.

collection

(

'user'

)

;





try

 

{




    

const

 results 

=

 

await

 userCollection

.

insertMany

(

[

{




        

id

:

 

'1236'

,




        

name

:

 

'John'

,




        

email

:

 

'john@foo.bar'

,




    

}

,

 

{




        

id

:

 

'1237'

,




        

name

:

 

'Andy'

,




        

email

:

 

'andy@foo.bar'

,




    

}

]

,

 

{




        

forceServerObjectId

:

 

true




    

}

)




    

console

.

log

(

results

.

insertedCount

)

;




    

console

.

log

(

results

.

insertedIds

)

;




    

console

.

log

(

results

.

ops

[

0

]

)

;




}

 

catch

 

(

error

)

 

{




    

console

.

error

(

error

)




    

throw

 error




}

;



Insert multiple documents (Promise)
const

 databaseDB 

=

 mongodbClient

.

db

(

'database'

)

;




const

 userCollection 

=

 databaseDB

.

collection

(

'user'

)

;





userCollection

.

insertMany

(

[

{




        

id

:

 

'1236'

,




        

name

:

 

'John'

,




        

email

:

 

'john@foo.bar'

,




    

}

,

 

{




        

id

:

 

'1237'

,




        

name

:

 

'Andy'

,




        

email

:

 

'andy@foo.bar'

,




}

]

,

 

{




    

forceServerObjectId

:

 

true




}

)

.

then

(

(

result

)

 

=>

 

{




    

console

.

log

(

result

.

insertedCount

)

;




    

console

.

log

(

result

.

insertedId

)

;




    

console

.

log

(

result

.

ops

[

0

]

)

;




}

)

.

catch

(

(

error

)

 

=>

 

{




    

console

.

error

(

error

)




    

throw

 error




}

)



Insert multiple documents (callback)
const

 databaseDB 

=

 mongodbClient

.

db

(

'database'

)

;




const

 userCollection 

=

 databaseDB

.

collection

(

'user'

)

;





userCollection

.

insertMany

(

[

{




    

id

:

 

'1236'

,




    

name

:

 

'John'

,




    

email

:

 

'john@foo.bar'

,




}

,

 

{




    

id

:

 

'1237'

,




    

name

:

 

'Andy'

,




    

email

:

 

'andy@foo.bar'

,




}

]

,

 

{




    

forceServerObjectId

:

 

true




}

,

 

(

error

,

 result

)

 

=>

 

{




    

if

 

(

error

)

  

{




        

console

.

error

(

error

)




        

throw

 error




    

}

 

else

 

{




        

console

.

log

(

result

.

insertedCount

)

;




        

console

.

log

(

result

.

insertedId

)

;




        

console

.

log

(

result

.

ops

[

0

]

)

;




    

}




}

)



Find a document​
Find a document (async/await)
const

 databaseDB 

=

 mongodbClient

.

db

(

'database'

)

;




const

 userCollection 

=

 databaseDB

.

collection

(

'user'

)

;





try

 

{




    

const

 results 

=

 

await

 userCollection

.

findOne

(

{




        

id

:

 

'1234'




    

}

,

 

{




        

projection

:

 

{




            

name

:

 

1

,




            

id

:

 

1




        

}




    

}

)




    

console

.

log

(

results

)

;




}

 

catch

 

(

error

)

 

{




    

console

.

error

(

error

)




    

throw

 error




}

;




Find a document (Promise)
const

 databaseDB 

=

 mongodbClient

.

db

(

'database'

)

;




const

 userCollection 

=

 databaseDB

.

collection

(

'user'

)

;





userCollection

.

findOne

(

{




    

id

:

 

'1234'




}

,

 

{




    

projection

:

 

{




        

name

:

 

1

,




        

id

:

 

1




    

}




}

)

.

then

(

(

results

)

 

=>

 

{




    

console

.

log

(

results

)

;




    

return

 results




}

)

.

catch

(

(

error

)

 

=>

 

{




    

console

.

error

(

error

)




    

throw

 error




}

)

;




Find a document (callback)
const

 databaseDB 

=

 mongodbClient

.

db

(

'database'

)

;




const

 userCollection 

=

 databaseDB

.

collection

(

'user'

)

;





userCollection

.

findOne

(

{




    

id

:

 

'1234'




}

,

 

{




    

projection

:

 

{




        

name

:

 

1

,




        

id

:

 

1




    

}




}

,

 

(

error

,

 results

)

 

=>

 

{




    

if

 

(

error

)

 

{




        

console

.

error

(

error

)




    

}

 

else

 

{




        

console

.

log

(

results

)




    

}




}

)

;



Find multiple documents​
Find multiple documents (async/await)
const

 databaseDB 

=

 mongodbClient

.

db

(

'database'

)

;




const

 userCollection 

=

 databaseDB

.

collection

(

'user'

)

;





const

 cursor 

=

 userCollection

.

find

(

{




    

id

:

 

'1234'




}

,

 

{




    

projection

:

 

{




        

name

:

 

1

,




        

id

:

 

1




    

}




}

)

;





try

 

{




    

const

 rowsCount 

=

 

await

 cursor

.

count

(

)

;




    

if

 

(

rowsCount 

===

 

0

)

 

{




        

console

.

log

(

"No documents found!"

)

;




    

}





    

await

 cursor

.

forEach

(

console

.

log

)

;




}

 

catch

 

(

error

)

 

{




    

console

.

error

(

error

)




    

throw

 error




}



Find multiple documents (Promise)
const

 databaseDB 

=

 mongodbClient

.

db

(

'database'

)

;




const

 userCollection 

=

 databaseDB

.

collection

(

'user'

)

;





try

 

{




    

const

 cursor 

=

 userCollection

.

find

(

{




        

id

:

 

'1234'




    

}

,

 

{




        

projection

:

 

{




            

name

:

 

1

,




            

id

:

 

1




        

}




    

}

)

;





    

const

 rowsCount 

=

 

await

 cursor

.

count

(

)

;




    

if

 

(

rowsCount 

===

 

0

)

 

{




        

console

.

log

(

"No documents found!"

)

;




    

}




    

await

 cursor

.

forEach

(

console

.

log

)

;




}

 

catch

 

(

error

)

 

{




    

console

.

error

(

error

)




    

throw

 error




}



Find multiple documents (callback)
const

 databaseDB 

=

 mongodbClient

.

db

(

'database'

)

;




const

 userCollection 

=

 databaseDB

.

collection

(

'user'

)

;





const

 cursor 

=

 userCollection

.

find

(

{




    

id

:

 

'1234'




}

,

 

{




    

projection

:

 

{




        

name

:

 

1

,




        

id

:

 

1




    

}




}

)

;





cursor

.

count

(

(

error

,

 count

)

 

=>

 

{




    

if

 

(

count 

===

 

0

 

)

 

{




        

console

.

log

(

"No documents found!"

)

;




    

}

 

else

 

{




        cursor

.

forEach

(

console

.

log

,

 

(

error

)

 

=>

 

{




            

console

.

error

(

'An error instance during the execution.'

)




            

console

.

error

(

error

)




        

}

)

;




    

}




}

)



Update a single document​
Update a single document (async/await)
const

 databaseDB 

=

 mongodbClient

.

db

(

'database'

)

;




const

 userCollection 

=

 databaseDB

.

collection

(

'user'

)

;





try

 

{




    

const

 results 

=

 

await

 userCollection

.

updateOne

(

{




        

id

:

 

'1234'




    

}

,

 

{




        

name

:

 

'New name'




    

}

,

 

{




        

upsert

:

 

true




    

}

)

;




    

console

.

log

(

results

)




}

 

catch

 

(

error

)

 

{




    

console

.

error

(

error

)




    

throw

 error




}



Update a single document (Promise)
const

 databaseDB 

=

 mongodbClient

.

db

(

'database'

)

;




const

 userCollection 

=

 databaseDB

.

collection

(

'user'

)

;





userCollection

.

updateOne

(

{




    

id

:

 

'1234'




}

,

 

{




    

name

:

 

'New name'




}

,

 

{




    

upsert

:

 

true




}

)

.

then

(

(

results

)

 

=>

 

{




    

console

.

log

(

results

)




}

)

.

catch

(

(

error

)

 

=>

 

{




    

console

.

error

(

error

)




    

throw

 error




}

)



Update a single document (callback)
const

 databaseDB 

=

 mongodbClient

.

db

(

'database'

)

;




const

 userCollection 

=

 databaseDB

.

collection

(

'user'

)

;





userCollection

.

updateOne

(

{




    

id

:

 

'1234'




}

,

 

{




    

name

:

 

'New name'




}

,

 

{




    

upsert

:

 

true




}

,

 

(

error

,

 results

)

 

=>

 

{




    

if

 

(

error

)

 

{




        

console

.

error

(

error

)




    

}

 

else

 

{




        

console

.

log

(

results

)




    

}




}

)

;



Update multiple documents​
Update multiple documents (async/await)
const

 databaseDB 

=

 mongodbClient

.

db

(

'database'

)

;




const

 productCollection 

=

 databaseDB

.

collection

(

'product'

)

;





try

 

{




    

const

 results 

=

 

await

 productCollection

.

updateMany

(

{




        

stock

:

 

{

 

$eq

:

 

0

 

}




    

}

,

 

{




        

soldOut

:

 

true




    

}

)

;




    

console

.

log

(

results

)




}

 

catch

 

(

error

)

 

{




    

console

.

error

(

error

)




    

throw

 error




}



Update multiple documents (Promise)
const

 databaseDB 

=

 mongodbClient

.

db

(

'database'

)

;




const

 productCollection 

=

 databaseDB

.

collection

(

'product'

)

;





productCollection

.

updateMany

(

{




    

stock

:

 

{

 

$eq

:

 

0

 

}




}

,

 

{




    

soldOut

:

 

true




}

)

.

then

(

(

results

)

 

=>

 

{




    

console

.

log

(

results

)




}

)

.

catch

(

(

error

)

 

=>

 

{




    

console

.

error

(

error

)




    

throw

 error




}

)



Update multiple documents (callback)
const

 databaseDB 

=

 mongodbClient

.

db

(

'database'

)

;




const

 productCollection 

=

 databaseDB

.

collection

(

'product'

)

;





productCollection

.

updateMany

(

{




    

stock

:

 

{

 

$eq

:

 

0

 

}




}

,

 

{




    

soldOut

:

 

true




}

,

 

{




    

upsert

:

 

true




}

,

 

(

error

,

 results

)

 

=>

 

{




    

if

 

(

error

)

 

{




        

console

.

error

(

error

)




    

}

 

else

 

{




        

console

.

log

(

results

)




    

}




}

)

;



Delete one document​
Delete one document (async/await)
const

 databaseDB 

=

 mongodbClient

.

db

(

'database'

)

;




const

 userCollection 

=

 databaseDB

.

collection

(

'user'

)

;




try

 

{




    

const

 result 

=

 

await

 userCollection

.

deleteOne

(

{




        

id

:

 

'1234'




    

}

)




    

console

.

log

(

result

.

result

)




    

console

.

log

(

`

Deleted 

${

result

.

deletedCount

}

 documents

`

)




}

 

catch

 

(

error

)

 

{




    

console

.

error

(

error

)




    

throw

 error




}




Delete one document (Promise)
const

 databaseDB 

=

 mongodbClient

.

db

(

'database'

)

;




const

 userCollection 

=

 databaseDB

.

collection

(

'user'

)

;





userCollection

.

deleteOne

(

{




    

id

:

 

'1234'




}

)

.

then

(

(

result

)

 

=>

 

{




    

console

.

log

(

result

.

result

)




    

console

.

log

(

`

Deleted 

${

result

.

deletedCount

}

 documents

`

)




}

)

.

catch

(

(

error

)

 

=>

 

{




    

console

.

error

(

error

)




    

throw

 error




}

)

;



Delete one document (callback)
const

 databaseDB 

=

 mongodbClient

.

db

(

'database'

)

;




const

 userCollection 

=

 databaseDB

.

collection

(

'user'

)

;





userCollection

.

deleteOne

(

{




    

id

:

 

'1234'




}

,

 

(

error

,

 result

)

 

=>

 

{




    

if

 

(

error

)

 

{




        

console

.

error

(

error

)




    

}

 

else

 

{




        

console

.

log

(

result

.

result

)




        

console

.

log

(

`

Deleted 

${

result

.

deletedCount

}

 documents

`

)




    

}




}

)

;



Delete multiple documents​
Delete multiple documents (async/await)
const

 databaseDB 

=

 mongodbClient

.

db

(

'database'

)

;




const

 productCollection 

=

 databaseDB

.

collection

(

'product'

)

;





try

 

{




    

const

 results 

=

 

await

 productCollection

.

deleteMany

(

{




        

soldOut

:

 

true




    

}

)

;




    

console

.

log

(

results

)




}

 

catch

 

(

error

)

 

{




    

console

.

error

(

error

)




    

throw

 error




}



Delete multiple documents (Promise)
const

 databaseDB 

=

 mongodbClient

.

db

(

'database'

)

;




const

 productCollection 

=

 databaseDB

.

collection

(

'product'

)

;





productCollection

.

deleteMany

(

{




    

soldOut

:

 

true




}

)

.

then

(

(

results

)

 

=>

 

{




    

console

.

log

(

results

)




}

)

.

catch

(

(

error

)

 

=>

 

{




    

console

.

error

(

error

)




    

throw

 error




}

)



Delete multiple documents (callback)
const

 databaseDB 

=

 mongodbClient

.

db

(

'database'

)

;




const

 productCollection 

=

 databaseDB

.

collection

(

'product'

)

;





productCollection

.

deleteMany

(

{




    

soldOut

:

 

true




}

,

 

(

error

,

 results

)

 

=>

 

{




    

if

 

(

error

)

 

{




        

console

.

error

(

error

)




    

}

 

else

 

{




        

console

.

log

(

results

)




    

}




}

)

;



Integration​
New integration from credential
mongodb_client 

=

 yepcode

.

integration

.

mongodb

(

'credential-slug'

)



New integration from plain authentication data
from

 pymongo 

import

 MongoClient





mongodb_client 

=

 MongoClient

(




    

"mongodb://yourhost:27017/"

,




    username

=

"username"

,




    password

=

"password"

,




    tls

=

False

,




)



Insert a document​
Insert a document
db 

=

 mongodb_client

[

"your_database_name"

]




collection 

=

 db

[

"your_collection_name"

]





document 

=

 

{




    

"name"

:

 

"John"

,




    

"age"

:

 

30

,




    

"city"

:

 

"New York"




}





collection

.

insert_one

(

document

)



Insert multiple documents​
Insert multiple documents
db 

=

 mongodb_client

[

"your_database_name"

]




collection 

=

 db

[

"your_collection_name"

]





documents 

=

 

[




    

{

"name"

:

 

"John"

,

 

"age"

:

 

30

}

,




    

{

"name"

:

 

"Jane"

,

 

"age"

:

 

25

}

,




    

{

"name"

:

 

"Alex"

,

 

"age"

:

 

35

}

,




]




result 

=

 collection

.

insert_many

(

documents

)




print

(

result

.

inserted_ids

)



Find a document​
Find a document
db 

=

 mongodb_client

[

"your_database_name"

]




collection 

=

 db

[

"your_collection_name"

]





query 

=

 

{

"name"

:

 

"John"

}




result 

=

 collection

.

find_one

(

query

)




print

(

result

)



Find multiple documents​
Find multiple documents
db 

=

 mongodb_client

[

"your_database_name"

]




collection 

=

 db

[

"your_collection_name"

]





query 

=

 

{

"age"

:

 

{

"$gt"

:

 

25

}

}




docs 

=

 collection

.

find

(

query

)




for

 doc 

in

 docs

:




    

print

(

doc

)



Update a single document​
Update a single document
db 

=

 mongodb_client

[

"your_database_name"

]




collection 

=

 db

[

"your_collection_name"

]





filter_query 

=

 

{

"name"

:

 

"John"

}




update_query 

=

 

{

"$set"

:

 

{

"age"

:

 

32

}

}





collection

.

update_one

(

filter_query

,

 update_query

)



Update multiple documents​
Update multiple documents
db 

=

 mongodb_client

[

"your_database_name"

]




collection 

=

 db

[

"your_collection_name"

]





filter_query 

=

 

{

"age"

:

 

{

"$eq"

:

 

30

}

}




update_query 

=

 

{

"$inc"

:

 

{

"age"

:

 

5

}

}





result 

=

 collection

.

update_many

(

filter_query

,

 update_query

)




print

(

"Modified %d documents"

,

 result

.

modified_count

)



Delete one document​
Delete one document
db 

=

 mongodb_client

[

"your_database_name"

]




collection 

=

 db

[

"your_collection_name"

]





query 

=

 

{

"name"

:

 

"John"

}





collection

.

delete_one

(

query

)



Delete multiple documents​
Delete multiple documents
db 

=

 mongodb_client

[

"your_database_name"

]




collection 

=

 db

[

"your_collection_name"

]




    




query 

=

 

{

"age"

:

 

{

"$gt"

:

 

30

}

}





result 

=

 collection

.

delete_many

(

query

)




print

(

"Deleted %d documents"

,

 result

.

modified_count

)