Postgres
Postgres (aka PostgreSQL) is a free and open-source relational database management system emphasizing extensibility and SQL compliance
JavaScript
Python
Network Connection needs
This integration needs network access to the server where the service is running.
See the Network access page for details about how to achieve that.
Credential configuration​
To configure this credential you need the host, port, username, password and database to connect to postgres.
Optionally you can set any of the extra config params you can see in the examples of their docs page.
Here you have an example of a filled credential configuration form in YepCode: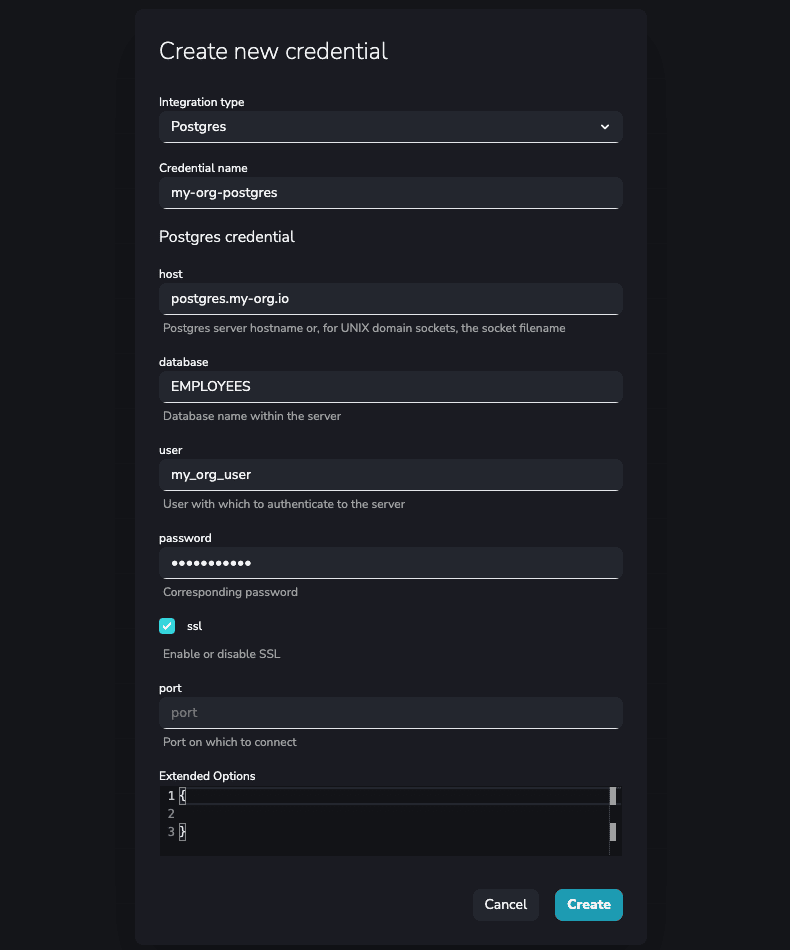 Postgres snippets available in editor​
note
The title is the triggering text for YepCode to autocomplete the script
JavaScript
Python
Integration​
New integration from credential
const

 postgresPool 

=

 yepcode

.

integration

.

postgres

(

'credential-slug'

)



New integration from plain authentication data
const

 

{

 

Pool

 

}

 

=

 

require

(

'pg'

)





const

 postgresPool 

=

 

new

 

Pool

(

{




    

user

:

 

'postgres'

,




    

password

:

 

'1234abcd'

,




    

host

:

 

'localhost'

,




    

database

:

 

'testdb'

,




    

port

:

 

5432

,




    

ssl

:

 

true

,




    

query_timeout

:

 

5000

,




    

connectionTimeoutMillis

:

 

2000

,




    

max

:

 

20

,




    

idleTimeoutMillis

:

 

30000

,




    

idle_in_transaction_session_timeout

:

 

10000

,




    

statement_timeout

:

 

5000

,




}

)

;



New integration from plain authentication data (connectionString)
const

 

{

 

Pool

 

}

 

=

 

require

(

'pg'

)





const

 postgresPool 

=

 

new

 

Pool

(

{




    

ssl

:

 

true

,




    

connectionString

:

 

'postgres://user:password@host:5432/database'

,




    

statement_timeout

:

 

5000

,




    

query_timeout

:

 

5000

,




    

connectionTimeoutMillis

:

 

3000

,




    

max

:

 

20

,




    

idleTimeoutMillis

:

 

30000

,




    

idle_in_transaction_session_timeout

:

 

10000

,




}

)

;



Connect​
Connect (async/await)
try

 

{




    

const

 client 

=

 

await

 postgresPool

.

connect

(

)




    

await

 client

.

query

(

'SELECT NOW()'

)




    client

.

release

(

)




}

 

catch

 

(

error

)

 

{




    

console

.

log

(

error

)




}

 

finally

 

{




    postgresPool

.

end

(

(

)

 

=>

 

{

 

console

.

log

(

'pool has ended'

)

 

}

)




}



Connect (callback)
postgresPool

.

connect

(

(

error

,

 client

,

 release

)

 

=>

 

{




    

if

 

(

error

)

 

{




        

return

 

console

.

error

(

error

)




    

}




    client

.

query

(

'SELECT NOW()'

,

 

(

error

,

 result

)

 

=>

 

{




        

release

(

)




        

if

 

(

error

)

 

{




            

return

 

console

.

error

(

error

)




        

}




    postgresPool

.

end

(

(

)

 

=>

 

{

 

console

.

log

(

'pool has ended'

)

 

}

)





  

}

)




}

)



Disconnect​
Disconnect (async/await)
try

 

{




    

await

 postgresPool

.

end

(

)





    

console

.

log

(

'Connection closed!'

)




}

 

catch

 

(

error

)

 

{




    

console

.

error

(

error

)




}



Disconnect (Promise)
postgresPool

.

end

(

)

.

then

(

(

)

 

=>

 

{




    

console

.

log

(

'Connection closed!'

)




}

)

.

catch

(

console

.

error

)



Disconnect (callback)
postgresPool

.

end

(

(

error

)

 

=>

 

{




    

if

 

(

error

)

 

{




        

console

.

error

(

error

)




    

}

 

else

 

{




        

console

.

log

(

'Connection closed!'

)




    

}




}

)



SELECT Text only​
SELECT Text only (async/await)
try

 

{




    

const

 result 

=

 

await

 postgresPool

.

query

(

'SELECT id, name, price FROM products'

)




    result

.

rows

.

forEach

(

console

.

log

)

;




}

 

catch

 

(

error

)

 

{




    

console

.

error

(

error

)




}



SELECT Text only (Promise)
postgresPool

.

query

(

'SELECT id, name, price FROM products'

)




.

then

(

(

result

)

 

=>

 

{




    result

.

rows

.

forEach

(

console

.

log

)

;




}

)

.

catch

(

console

.

error

)



SELECT Text only (callback)



postgresPool

.

query

(




    

'SELECT id, name, price FROM products'

,




    

(

error

,

 result

)

 

=>

 

{




        

if

 

(

error

)

 

{




            

console

.

error

(

error

)




        

}

 

else

 

{




            

console

.

log

(

result

.

rows

[

0

]

)




        

}




    

}




)



SELECT Parameterized​
SELECT Parameterized (async/await)
try

 

{




    

const

 result 

=

 

await

 postgresPool

.

query

(




        

`

SELECT id, name, price




        FROM products




        WHERE price > $1 AND stock > $2

`

,




        

[

100

,

 

200

]




    

)




    

console

.

log

(

result

.

fields

[

0

]

.

name

)

 

// id




    

console

.

log

(

result

.

fields

[

1

]

.

name

)

 

// name




    

console

.

log

(

result

.

fields

[

2

]

.

name

)

 

// price




    

console

.

log

(

result

.

rows

)

 

// [{ id, name, price }, ...]




}

 

catch

 

(

error

)

 

{




    

console

.

error

(

error

)




}



SELECT Parameterized (Promise)
postgresPool

.

query

(

`




    SELECT id, name, price




    FROM products




    WHERE price > $1 AND stock > $2

`

,




    

[

100

,

 

200

]




)

.

then

(

(

result

)

 

=>

 

{




    

console

.

log

(

result

.

fields

[

0

]

.

name

)

 

// id




    

console

.

log

(

result

.

fields

[

1

]

.

name

)

 

// name




    

console

.

log

(

result

.

fields

[

2

]

.

name

)

 

// price




    

console

.

log

(

result

.

rows

)

 

// [{ id, name, price }, ...]




}

)

.

catch

(

console

.

error

)



SELECT Parameterized (callback)



postgresPool

.

query

(

`




    SELECT id, name, price




    FROM products




    WHERE price > $1 AND stock > $2

`

,




    

[

100

,

 

200

]

,




    

(

error

,

 result

)

 

=>

 

{




        

if

 

(

error

)

 

{




            

console

.

error

(

error

)




        

}

 

else

 

{




            

console

.

log

(

result

.

fields

[

0

]

.

name

)

 

// id




            

console

.

log

(

result

.

fields

[

1

]

.

name

)

 

// name




            

console

.

log

(

result

.

fields

[

2

]

.

name

)

 

// price




            

console

.

log

(

result

.

rows

)

 

// [{ id, name, price }, ...]




        

}




    

}




)



SELECT Query object​
SELECT Query object (async/await)
try

 

{




    

const

 query 

=

 

{




        

text

:

 

`




            SELECT id, name, price




            FROM products




            WHERE price > $1 AND stock > $2

`

,




        

values

:

 

[

'100'

,

 

'200'

]

,




    

}




    

const

 result 

=

 

await

 postgresPool

.

query

(

query

)




    

console

.

log

(

result

.

fields

[

0

]

.

name

)

 

// id




    

console

.

log

(

result

.

fields

[

1

]

.

name

)

 

// name




    

console

.

log

(

result

.

fields

[

2

]

.

name

)

 

// price




    

console

.

log

(

result

.

rows

)

 

// [{ id, name, price }, ...]




}

 

catch

 

(

error

)

 

{




    

console

.

error

(

error

)




}



SELECT Query object (Promise)



const

 query 

=

 

{




    

text

:

 

`




        SELECT id, name, price




        FROM products




        WHERE price > $1 AND stock > $2

`

,




    

values

:

 

[

'100'

,

 

'200'

]

,




}




postgresPool

.

query

(

query

)




.

then

(

(

result

)

 

=>

 

{




    

console

.

log

(

result

.

fields

[

0

]

.

name

)

 

// id




    

console

.

log

(

result

.

fields

[

1

]

.

name

)

 

// name




    

console

.

log

(

result

.

fields

[

2

]

.

name

)

 

// price




    

console

.

log

(

result

.

rows

)

 

// [{ id, name, price }, ...]




}

)

.

catch

(

console

.

error

)



SELECT Query object (callback)
const

 query 

=

 

{




    

text

:

 

`




        SELECT id, name, price




        FROM products




        WHERE price > $1 AND stock > $2

`

,




    

values

:

 

[

'100'

,

 

'200'

]

,




}





postgresPool

.

query

(




    query

,




    

(

error

,

 result

)

 

=>

 

{




        

if

 

(

error

)

 

{




            

console

.

error

(

error

)




        

}

 

else

 

{




            

console

.

log

(

result

.

fields

[

0

]

.

name

)

 

// id




            

console

.

log

(

result

.

fields

[

1

]

.

name

)

 

// name




            

console

.

log

(

result

.

fields

[

2

]

.

name

)

 

// price




            

console

.

log

(

result

.

rows

)

 

// [{ id, name, price }, ...]




        

}




    

}




)



INSERT Text only​
INSERT Text only (async/await)
try

 

{




    

const

 result 

=

 

await

 postgresPool

.

query

(




        

"INSERT INTO products(id, name, price, stock) VALUES('12345', 'FOO', 12, 50)"




    

)




    

console

.

log

(

result

.

rowCount

)

 

// 1




}

 

catch

 

(

error

)

 

{




    

console

.

error

(

error

)




}



INSERT Text only (Promise)
postgresPool

.

query

(




    

"INSERT INTO products(id, name, price, stock) VALUES('12345', 'FOO', 12, 50)"




)

.

then

(

result

 

=>

 

console

.

log

(

result

.

rowCount

)

)

 

// 1




.

catch

(

console

.

error

)



INSERT Text only (callback)



postgresPool

.

query

(




    

"INSERT INTO products(id, name, price, stock) VALUES('12345', 'FOO', 12, 50)"

,




    

(

error

,

 result

)

 

=>

 

{




        

if

 

(

error

)

 

{




            

console

.

error

(

error

)




        

}

 

else

{




            

console

.

log

(

result

.

rowCount

)

 

// 1




        

}




    

}




)



INSERT Parameterized​
INSERT Parameterized (async/await)
try

 

{




    

const

 result 

=

 

await

 postgresPool

.

query

(




        

'INSERT INTO products(id, name, price, stock) VALUES($1, $2, $3, $4)'

,




        

[

'12345'

,

 

'FOO'

,

 

12

,

 

50

]




    

)




    

console

.

log

(

result

.

rowCount

)

 

// 1




}

 

catch

 

(

error

)

 

{




    

console

.

error

(

error

)




}



INSERT Parameterized (Promise)
postgresPool

.

query

(




    

'INSERT INTO products(id, name, price, stock) VALUES($1, $2, $3, $4)'

,




    

[

'12345'

,

 

'FOO'

,

 

12

,

 

50

]




)

.

then

(

result

 

=>

 

console

.

log

(

result

.

rowCount

)

)

 

// 1




.

catch

(

console

.

error

)



INSERT Parameterized (callback)



postgresPool

.

query

(




    

'INSERT INTO products(id, name, price, stock) VALUES($1, $2, $3, $4)'

,




    

[

'12345'

,

 

'FOO'

,

 

12

,

 

50

]

,




    

(

error

,

 result

)

 

=>

 

{




        

if

 

(

error

)

 

{




            

console

.

error

(

error

)




        

}

 

else

 

{




            

console

.

log

(

result

.

rowCount

)

 

// 1




        

}




)



INSERT Query object​
INSERT Query object (async/await)
try

 

{




    

const

 query 

=

 

{




        

text

:

 

'INSERT INTO products(id, name, price, stock) VALUES($1, $2, $3, $4)'

,




        

values

:

 

[

'12345'

,

 

'FOO'

,

 

12

,

 

50

]




    

}




    

const

 result 

=

 

await

 postgresPool

.

query

(

query

)




    

console

.

log

(

result

.

rowCount

)

 

// 1




}

 

catch

 

(

error

)

 

{




    

console

.

error

(

error

)




}



INSERT Query object (Promise)
const

 query 

=

 

{




    

text

:

 

'INSERT INTO products(id, name, price, stock) VALUES($1, $2, $3, $4)'

,




    

values

:

 

[

'12345'

,

 

'FOO'

,

 

12

,

 

50

]




}




postgresPool

.

query

(

query

)




.

then

(

result

 

=>

 

console

.

log

(

result

.

rowCount

)

)

 

// 1




.

catch

(

console

.

error

)



INSERT Query object (callback)
const

 query 

=

 

{




    

text

:

 

'INSERT INTO products(id, name, price, stock) VALUES($1, $2, $3, $4)'

,




    

values

:

 

[

'12345'

,

 

'FOO'

,

 

12

,

 

50

]




}





postgresPool

.

query

(




    query

,




    

(

error

,

 result

)

 

=>

 

{




        

if

 

(

error

)

 

{




            

console

.

error

(

error

)




        

}

 

else

 

{




            

console

.

log

(

result

.

rowCount

)

 

// 1




        

}




    

}




)



Integration​
New integration from credential
postgres_pool 

=

 yepcode

.

integration

.

postgres

(

'credential-slug'

)



New integration from plain authentication data
from

 psycopg2 

import

 pool





postgres_pool 

=

 pool

.

SimpleConnectionPool

(




    minconn

=

1

,




    maxconn

=

10

,




    host

=

"localhost"

"

,




    database

=

"database"

,




    user

=

"username"

,




    password

=

"password"

"

,




    port

=

"5432"

,




    sslmode

=

"require"

,

 

# or "disable"




)



Connect​
Connect
connection 

=

 postgres_pool

.

getconn

(

)




cursor 

=

 connection

.

cursor

(

)



Disconnect​
Disconnect
cursor

.

close

(

)




connection

.

close

(

)



SELECT Text only​
SELECT Text only
query 

=

 

"SELECT * FROM table_name"





cursor

.

execute

(

query

)





for

 row 

in

 cursor

:




    

print

(

row

)



SELECT Parameterized​
SELECT Parameterized
query 

=

 

"SELECT * FROM table_name WHERE name = %s"




value 

=

 

(

"some name"

)





cursor

.

execute

(

query

,

 value

)





for

 row 

in

 cursor

:




    

print

(

row

)



SELECT Query object​
SELECT Query object
query 

=

 

"SELECT * FROM table_name WHERE name =  %(name)s"




value 

=

 

{

"name"

:

 

"some name"

}





cursor

.

execute

(

query

)





for

 row 

in

 cursor

:




    

print

(

row

)



INSERT Text only​
INSERT Text only
query 

=

 

"INSERT INTO table_name (id, name) VALUES ('some-id', 'some-name')"





cursor

.

execute

(

query

)




connection

.

commit

(

)



INSERT Parameterized​
INSERT Parameterized
query 

=

 

"INSERT INTO table_name (id, name) VALUES (%s, %s)"




value 

=

 

(

'some-id'

,

'some-name'

)





cursor

.

execute

(

query

,

 value

)




connection

.

commit

(

)



INSERT Query object​
INSERT Query object
query 

=

 

"INSERT INTO table_name (id, name) VALUES (%(id)s, %(name)s)"




value 

=

 

{

"id"

:

'some-id'

,

 

"name"

:

'some-name'

}





cursor

.

execute

(

query

,

 value

)




connection

.

commit

(

)